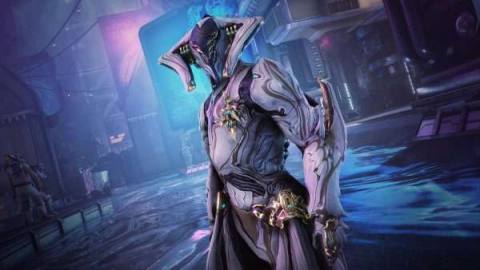 Digital Extremes has revealed the schedule for Warframe's upcoming online convention, TennoCon 2021, and confirmed that an 'interactive preview' of the game will be present at the show.
TennoCon 2021 is set to take place from July 17 at 2pm PT / 5pm PT / 10pm BST, and if you're into your Warframe, you'll know that players loyal to the popular online game are all amped for the debut of the title's next big expansion, The New War.
Digital Extremes knows that you're keen to see more about the expansion, and has revealed that attendees to TennoCon 2021 will get to experience "a one-time interactive preview event featuring a sneak peek of exclusive new content" during the dedicated Warframe event.
The New War has been in the works for a while now, so it's good to see the expansion finally getting a big, proper reveal at TennoCon 2021. But it seems like that slowly-and-gently approach has been intentional.
"We've spent a lot of time talking about The New War on dev streams and at past TennoCons. We've shown cinematics, added in-game messages and lead ups, and now the wait is over… we are so excited to finally provide some answers and give everyone a small piece of what's to come with The New War," said Rebecca Ford, live operations and community director at Digital Extremes in a press release.
"We're thankful for the patience of our players and we look forward to seeing their reactions to some of our big reveals in the chat. Their support creates this event, it gives players all over the world the opportunity to celebrate together each and every year. And this year, we have a special in-game preview event that players will appreciate."
There's not a lot of information about what this event will include, but we do know that the studio is referring to it as "an in-game Relay event where Warframe players can unite with friends from around the world […] for a one-time interactive preview event featuring a sneak peek of exclusive new content."
Expect it to be a sort of mood-setter for the new content, then.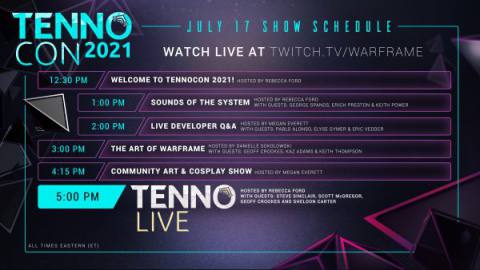 You can see the full schedule of events above, and if you're interested in learning more, you can head over to the dedicated TennoCon 2021 site.
The post TennoCon 2021 will feature an 'interactive preview' of the next Warframe expansion appeared first on VG247.