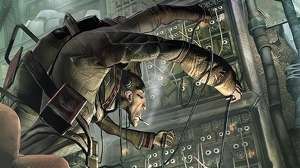 Downtown Los Angeles, 2005. A hot, bloated, extravagant E3, and everyone more excited than normal because it's new-console year. PlayStation 3, Xbox 360 and Revolution (Wii) are all at the show, and anything labelled "next-gen" is stampeded. Perhaps that's how a group of Swedish students, with no publisher and no track record, manage to entice people to see their game.
But, there is something exciting about what they're doing. Their game is different, darker, and more off-beat than mainstream games usually are. It's set in a dark city of warped rooftops and gnarled horizons, a place run by a malicious Corporation and its mysterious world-building machine, powered, it seems, by the souls of children. Children sent back out to work in the city as mindless zombies dubbed metrognomes.
You play a young steam-train engineer's apprentice, whose routine obedience is challenged the day he meets a girl on one of his trains. She questions the world around her and begins to make you question it too. She opens your eyes. Together you'll uncover the truth of this city, the City of Metronome.