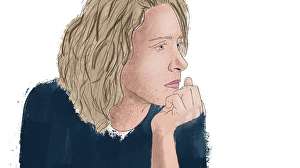 Closed Hands is a game about a fictional terror attack, a bomb, and about how the lives of five unconnected strangers become connected by it. But it's also about the society they live in. It's about the years before and the years after. It's about context and about how they got to that point in the first place. Closed Hands is a game about understanding.
And to understand it, you need to understand a bit about where it comes from. Closed Hands is created by Dan Hett, a man who lost his brother in the Manchester arena bombing in 2017. This game is the culmination of years of many smaller projects and knee-jerk experimentation as he processed why.
But it's not anger that fuels this game, it's questions. Questions Hett sought to answer as he became swept up in the aftermath of the event, speaking at schools, speaking to the press, and finding himself in the public eye. Closed Hands, in a sense, represents his answers, and so much of his personal experience can be felt across the game.