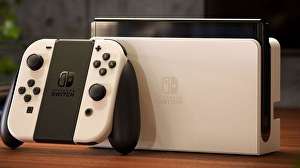 After months of pent-up expectation surrounding the 'Switch Pro' and hopes of a new, improved machine, Nintendo finally revealed its new OLED model yesterday and it is effectively a product refresh with a higher quality screen, more storage and a revised dock. No promises are being made about any actual enhancements to the performance of the machine because there are none. The same 16nm+ version of the Tegra X1 found in current Switches also beats at the heart of the OLED model, so the end result is a machine that improves the quality of the handheld experience but does not address what is arguably the Switch's biggest drawback – the quality of docked play.
All of which raises the question of how the Switch Pro hype train kicked off in the first place, since reputable outlets with good sources seemed to indicate that an upgraded model with a new Nvidia processor was a done deal. At Digital Foundry, we pegged the new unit as being a product refresh a few months back (see the very first DF Direct for commentary) especially as the Atmosphere custom firmware team had revealed the existence of a revised Switch with a new screen but the same core spec back in January. Apparently, the machine – internally codenamed 'Aula' – first appeared in the Switch firmware with update 10.0.0, which went public in April 2020. The only real explanation I can suggest is that development of the OLED and the actual next-gen Switch got confused at some point, birthing the Switch Pro rumour.
In terms of how the new Switch evolves, Nintendo's strategy is to add to the existing family of consoles. For now at least, the original model remains, as does the handheld-only 'non-Switchable' Lite. The OLED model gains a higher grade, physically larger 7-inch screen, improved audio and a multi-position kickstand, along with a light sensor on top – presumably to help with auto-brightness adjustment. Overall dimensions are much the same, but the unit is very, very slightly wider and a touch weightier. Switch OLED is confirmed to work with older docks but gets a more refined rendition with an onboard LAN port. This new dock is available for purchase separately and also works with older Switch models but there is a drawback to it – you lose the internal USB port, while the two external USB 2.0 sockets remain.