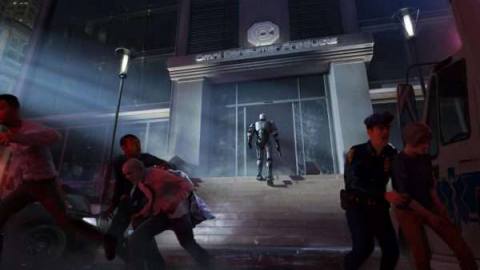 Robocop: Rogue City is a newly announced first-person shooter from the developer of Terminator: Resistance, and it's coming to PC and consoles in 2023.
Yes, you read that right: there's actually an honest-to-God Robocop game in the works right now. Publisher Nacon announced the game out of nowhere during its July 6 showcase.
The reveal trailer, which you can watch below, sets the scene well – we're back in a foggy Detroit, crime is rampant and a narrator wonders, "Who, or what, will send these crooks on the run and restore peace to all citizens once and for all?"
You guessed it: it's Robocop.
Blink and you'll miss the titular cyborg, who appears in the trailer for a whopping two seconds, but as reveals go, at least we got something. In Rogue City, you play as the original Robocop: Alex Murphy, in an original story based on the first three films.
There's no gameplay, no hint at how it'll actually play and no specific platforms revealed for the game beyond 'console and PC' (it's safe to assume PS5 and Xbox Series X/S though, considering it's targeting 2023).
The developer behind the game, Teyon, has had mixed successes: our two-star Terminator: Resistance review will show you what we thought of that, and Rambo: The Video Game was "one of the least enjoyable games" our reviewer had ever played. Oh dear.
Well, developers evolve and grow. Maybe Robocop is just what Teyon needed to find that special something. Maybe.
If you want more Robocop in your life, you'll be pleased to know the ruthless enforcement entity appeared in Mortal Kombat 11 last year.
The post Robocop: Rogue City coming 2023 from the Terminator: Resistance devs appeared first on VG247.