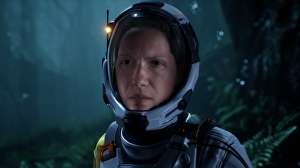 Returnal, as you won't need telling if you've been braving its trials this week, isn't an easy game. But it turns out a little bit of help (albeit not of the entirely above-board kind) has been left lingering within the game in the form of some newly discovered debug cheat codes – just don't expect them to stick around for very much longer.
As discovered by YouTuber TheRandomizer – and elaborated upon elsewhere – players can slightly ease their progress through Housemarque's tough-as-nails sci-fi shooter by attaching a USB keyboard to their PS5 and inputting a selection of commands, with varying results.
It's possible, for instance, to summon any weapon at your current weapon proficiency by pressing and holding shift, control and alt, and then hitting any number key between 1 and 0. Pressing and holding shift, control, and 4, meanwhile, instantly takes players back to their ship.