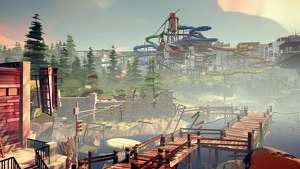 ReCore and Batman: Arkham Origins Blackgate developer Armature Studio will be bringing its surreal narrative adventure Where the Heart Leads to PlayStation on 13th July.
Where the Heart Leads tells the story of Whit Anderson, who, one stormy night, tumbles into an enormous sinkhole while attempting to save his golden retriever Casey. Unexpectedly, Whit emerges in a strange world where snatches of his past, present, future unfold like a dream – vignettes that can be altered to forever change the course of his and others' lives.
It's the choices available during these pivotal junctures in Whit's life that form the core of Where the Heart Leads. By manipulating any of the "thousands" of malleable moments promised, players can steer Whit's life toward dozens of different endings.