People Can Fly has released information on when you can pre-load Outriders as well as some of the changes you can expect on launch day and post-launch.
The launch day build of Outriders will contain a multitude of general improvements, balancing, bug fixes, and crash resolutions.
You can expect plenty of demo content bug fixes, including, for example, mods on some Legendary weapons not triggering properly. There will be balancing changes for various items, mods, enemy stats, and loot drops.
Cross-play will no longer be in beta and will be on by default. PC players will be able to add cross-platform players that they have previously played with to their friends lists. Consoles will receive this functionality through a future patch. It's worth noting that if you turn crossplay off manually, you will not be able to automatically matchmake with people who still have it turned on. Direct inviting will still work, though.
The team has added a "Quick Mark" functionality to the inventory. This will allow you to "mass-mark" all items based on rarity in one or two button presses, rather than needing to mark items individually.
Improvements have been made to the Cover System as well as the Travel Voting system used when in a group and information about internal cooldown mechanics for Mods to their descriptions has been added.
People Can Fly currently have patches undergoing testing and submission and it is the team's intention to release patches across all platforms simultaneously, though this may not always be possible.
The studio also outlined its pre-planned patches and will be carefully monitoring the release. It is the team's full intention to on short notice hotfix any issues that are deemed severe enough. Issues of lesser severity will be bundled in bigger post-launch patches.
On day one there will be a patch that People Can Fly hopes to integrate into pre-loading even before launch. If everything goes to plan, you won't even have to download this on day one, but there is a possibility that this patch will release on April 1.
Here's what you can expect with the Day One Patch:
Many bug fixes and improvements, with a particular focus on the latter sections of the game.
Performance improvements for pacing/stuttering that was observed during the demo

Camera Smoothing improvements for cutscenes and dialogues. This should reduce the camera shake that some players are struggling with.

Cutscenes/dialogues frame rate improvements

PC cutscenes will have the option to choose from 30, 60, 90 and 120fps

Xbox Series X|S and PlayStation 5 cutscenes will be locked to 60fps

Xbox One and PlayStation 4 cutscenes will remain locked to 30fps
The team has an additional pre-planned patch that is intended to address any recently-reported issues or bugs coming out of the demo that the run to launch. The resolutions for any non-urgent bugs that are discovered during launch may well be rolled into this patch.
It is intended for this patch to include controller adjustment options such as deadzone adjustment, acceleration settings, and legacy layouts; loading time improvements for Xbox One and PS4; further performance improvements for co-op games; and crossplay friends list and invite system across all platforms – this will require you to be using a Square Enix Members account.
You can also expect bug fixes including lore collectibles bugging out on second characters.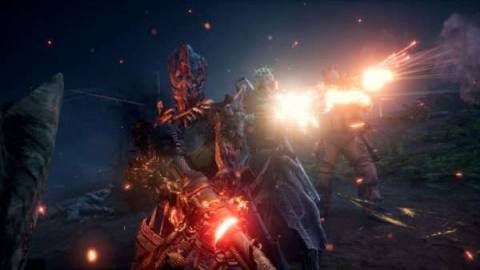 People Can Fly has also listed the times in which you will be able to pre-load the game.
Preloading and launch times are listed below.
Outriders Pre-loading:
Xbox – Pre-loading will be live today.

PlayStation Platforms – Pre-loading will begin 48 hours in advance of release time.

Steam – Pre-load options are still being determined and news about the possibility of it will come next week.

Epic Game Store: Preloading is not currently possible.
Outriders Launch Times:
Rolling Midnight Unlock for Consoles:

Consoles (Xbox and PlayStation) will unlock at midnight on April 1 for your specific country.

For the USA, this means midnight EDT April 1, which is 9pm PDT on March 31

Unified single global time for PC & Stadia:

The platforms will release on April 1 at 5pm BST /9am PDT

These platforms can only release at a single time globally (this is due to how their stores are set up)

Here is a countdown that will help you understand how long to go in your specific region.

This time is the standard PC release time for Square Enix and has been carefully chosen to ensure that the maximum amount of support and partner staff are on hand to deal with any launch day issues.
If want to give the game a go before it releases on April 1, the demo is available now for PC, PS4, PS5, Xbox One, and Xbox Series X/S. Progress achieved along with collected weapons, resources, and everything else will carry over to the full game as long as you keep playing to the same platform.
The demo is just the beginning, as the game offers over 30 hours worth of content. If you plan on playing it, check out our Outriders guides on how to find and farm the best guns, the best class for starters and solo players, and how to defeat Captain Reiner in Payback.
The post Outriders pre-load times, Day One and post-launch patches outlined appeared first on VG247.