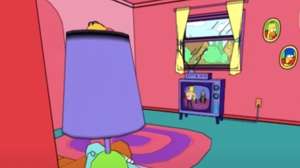 The tech demo of an unreleased The Simpsons game has been discovered on a Dreamcast devkit.
The demo of The Simpsons Bug Squad was first shared by DreamcasticChannel, and though it was prepared for Fox Interactive by Red Lemon Studio twenty years ago, it was not commissioned.
While only a tech demo and lacking both music, sound effects, and any obvious gameplay, it looks amazing for a demo made two decades ago. The brief video sees you, as the titular bug, explore a cel-shaded rendition of The Simpsons' kitchen and lounge, avoiding Homer's feet as you go.