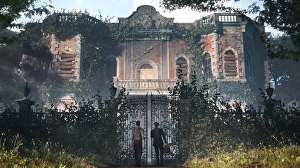 Back in February, Frogwares teased first gameplay footage of Sherlock Holmes: Chapter One, the latest entry in its well-regarded deduction-based adventure series, and the developer has now returned with a first proper gameplay trailer for those eager to see more.
Sherlock Holmes: Chapter One serves as a prequel to Frogwares' earlier Sherlock Holmes adventures, taking players back to Sherlock's days as a fresh-faced 21-year-old, and the investigation that would lead to a life of sleuthing.
Arriving on the sunny, Mediterranean-inspired island of Cordona – a deliberate aesthetic departure from the fog-shrouded London streets and rural corners of previous games in the series – Sherlock, with help from best friend Jon, begins inquiring into the death of his mother, kickstarting Frogwares' latest third-person, open-world investigation.