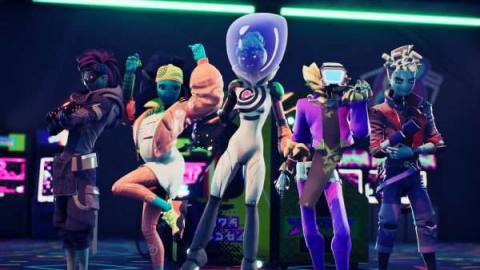 Illfonic shadow-dropped its latest game live on State of Play.
Arcadegeddon is the new game from Predator: Hunting Grounds, and Friday the 13th developer Illfonic. The game was announced on Thursday's State of Play showcase, and released shortly after in early access on PC, and PS5.
Arcadegeddon is an online shooter that takes place inside a super arcade game created by a local arcade owner. Playable solo or with three other players in co-op, Arcadegeddon sends you inside the game to defend it from a virus unleashed by a megacorporation trying to take over the arcade.
The game is made up of three biomes with different themes, where you'll go to shoot your way around, fight bosses, and earn loot. You'll also come across various minigames, which can you tackle with friends. Arcadegeddon is mainly a PvE game, but does have a neat PvP twist: challenges are randomly issued, tasking players with taking each other out for extra loot.
The game has a 90's, punk rock art style inspired by Gorillaz, and the Muppets, backed up by an original soundtrack.
The early access build is available now on PS5 and the Epic Games Store on PC for $20. Illfonic reckons it will take about seven months to graduate from early access. Over that period, you can expect regular content updates and monthly patches.
The post Arcadegeddon is a co-op shooter from Predator and Friday the 13th devs, and it's out now appeared first on VG247.