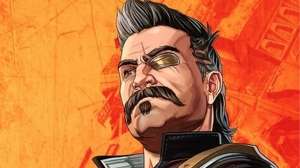 Apex Legends' eighth season, titled Mayhem, is right around the corner, and ahead of its planned 2nd February kick-off, developer Respawn Entertainment has introduce the free-to-play shooter's newest hero, Fuse.
Fuse – described as a "blow-up-first ask-questions-later kinda guy" on the Apex Legends website – will be the 16th hero to join the game since its launch almost two years ago now, and his official unveiling arrives in the form of a new Stories from the Outlands video.
It's a whistle stop animated tour of Fuse's chaotic life – from childhood to present – detailing his adventures with an unnamed partner-in-crime on the planet Salvo, his eventual crowning as Bonecage Champion, and the events that led to tthe Aussie demolitions expert losing his arm.