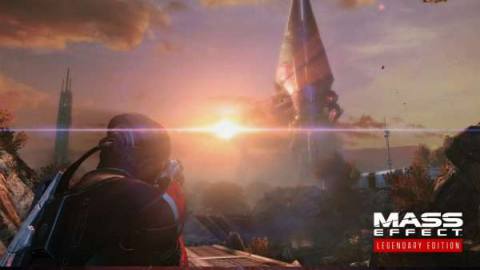 Mass Effect Legendary Edition has received a sizable patch that fixes various visual bugs, as well as some Achievement/Trophy issues, and solves the Xbox Series X headset issue, too.
BioWare and EA have pushed out a new patch for Mass Effect Legendary Edition that fixes a suite of issues players had noticed with the game since its release last Friday.
As explained in a set of patch notes, the May 17 update has updated a number of issues in-game: there's a new visual upgrade for the iris shaders, kill tracking in Mass Effect and Mass Effect 3 has been fixed for Achievement and Trophy reasons, and the game will no longer crash the Xbox Series X launcher if you're using a wireless headset (thought BioWare admits there still may be an issue if you enable or disable a headset while inside the launcher, though the developer hopes to fix that in a future patch).
It's a pretty big patch, no matter what platform you're playing on: the PlayStation download weighs in at about 11GB, whereas the Xbox patch is a touch larger if you have all three games installed.
Mass Effect Legendary Edition has been pretty popular so far: the game has set a new BioWare concurrent player record on Steam, and players have been importing Shepard's face via face codes, to make the whole experience more personal.
Our own Alex Donaldson noted that the Mass Effect Remaster in Legendary Edition is excellent, but showy visuals overshadow some of the original's mood and tone – maybe some of the updates in this patch will address that?
Check out the patch notes below:
General
Fixed the main issue where the launcher would crash or become unresponsive on Xbox Series X when using a wireless headset

Known issue: This can still happen if you enable/disable a headset in the launcher. A future fix will resolve this issue.

Improved iris shaders for better interaction with light and ambient occlusion
Minor calibrations, fixes, and stability improvements
Mass Effect
Improved terrain textures
Fixed an issue where kills for achievements/trophies weren't tracking correctly
Mass Effect & Mass Effect 2
Resolved an issue where the character code would sometimes not display in the squad menu
Improvements to pre-rendered cutscenes to reduce occasional artifacts
Mass Effect 2
Improved lighting and shadows in some cinematics
Minor visual, rendering, and VFX improvements on some levels
Resolved minor text issues with achievements
Mass Effect 3
Fixed an issue where kills for achievements/trophies weren't tracking correctly
Does patch 1.02 fix an issue you've been facing? Maybe a Trophy wasn't tracking correctly and now it will pop after booting the game following this update? Let us know in the comments below.
The post Mass Effect Legendary Edition patch adds visual improvements, fixes Xbox headset bug, more appeared first on VG247.