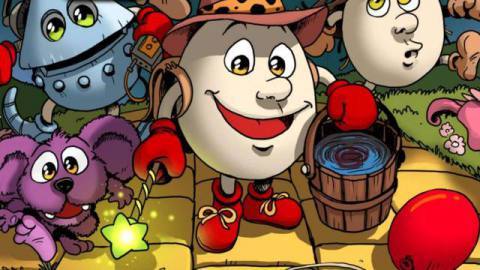 Update: The 'new game' is actually Fast Food Dizzy, a remake created especially using game design package FUZE4 Nintendo Switch. Fast Food Dizzy originally launched on the Sinclair ZX Spectrum, Amstrad CPC, Commodore 64, Amiga and Atari ST home computer systems back in 1989.
The game is included for free with FUZE, and it even includes the source code so you can pick it apart and learn how it works.
Philip Oliver had this to say about the news:
We really enjoyed re-imagining one of our classic original Dizzy games, so much so, that we just kept adding features. It was easy to learn, extremely intuitive and very powerful. We hope people enjoy the game, and find it challenging and inspiring.
His brother Andrew added:
It's been fantastic working with the team at FUZE who so passionately believe, as do we, that the best way to encourage students to learn to code, is to give them the tools to help them make games. FUZE is the perfect solution as a stepping stone between Scratch and industry-standard languages such as C++, Java, Python and Lua that can be hard to get into.
---
Original Story [Thu 5th Nov, 2020 16:15 GMT]: If you're a British gamer who grew up in the '80s then Dizzy will need no introduction. The egg-based hero created by The Oliver Twins starred in numerous adventures across a wide range of systems, including the NES.
Some of those very same adventures have been immortalised on the Evercade handheld recently – but if you're looking for some brand-new Yolkfolk action, then you're in luck.
The Oliver Twins have just announced that they're about to release details on a brand-new Dizzy instalment that was coded for Switch during the first UK lockdown (this week, we've just entered Lockdown II: The Wrath of Khan).
We're excited that a press release is coming out very soon of our new Dizzy game that we wrote on Switch during the first lockdown!
There's not much else beyond that announcement, but the fact that Dizzy is getting a new outing is cause for celebration. Let us know if you're looking forward to seeing the news by leaving a comment below.
If you're new to the series, then this video by Slope's Game Room will give you a good grounding: