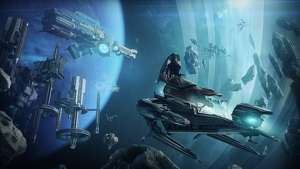 Digital Extremes' free-to-play sci-fi shooter Warframe has just released its new Corpus Proxima & The New Railjack update on PC, aiming to fix the game's "overly complicated" space combat.
Warframe initially introduced ship-to-ship combat as part of 2019's wildly ambitious Empyrean expansion. In a new post outlining today's update, Digital Extremes calls Empyrean a "daring leap into space [with] some missteps" that ultimately ended up being "overly complicated with an unnecessarily high barrier to entry."
The goal of Corpus Proxima & The New Railjack, then, is to remedy these issues, and simplify space combat for new and returning players.