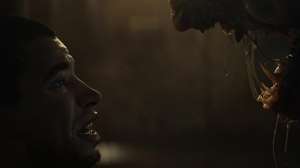 It was probably the stand-out reveal of this month's Game Awards show; a first look at the kind of survival sci-fi horror so many of us have been pining for, from the same people that brought us video game's defining sci-fi horror Dead Space. The Callisto Protocol, due in 2022 for PlayStation 5, Xbox Series S/X and PC, is the debut of Striking Distance Studios, formed by Glen Schofield and other veterans of EA Redwood Shores/Visceral Games – a project, fascinatingly, tied into the PlayerUnknown's Battlegrounds universe, seeing as it also comes courtesy of the PUBG Corporation.
"Well, I'm not sure how much I can even say about it," Schofield tells us in the aftermath of the reveal. "But you know, there is a lore, and there is a big storyline that's being written now. I've been wanting to do another sci-fi horror game. I mean, you know, I love doing sci fi and I love doing horror. I wanted to go back to exactly what I wanted to do. So I presented an idea to them – then we try and retrofit this storyline that they've been working on."
The story's set in a distant future on Callisto, Jupiter's second largest moon, and equal in size to a planet like Mercury – "It's a good size moon!" says Glen – and is confirmed to be third person and single player. Beyond that? There's not much more information on offer, partly through a desire from Striking Distance to keep its cards close to its chest, and partly because as a project it's still early days. What we can glean, though, is the direction Glen and his team – some 25 of which hail back to the Dead Space days – will be taking The Callisto Protocol, and indeed the survival horror genre.