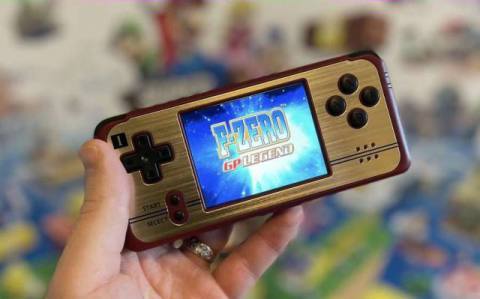 Remember the Revo K101 Plus? We took a look at this smart little Game Boy Advance clone way back in 2015, and passed the following verdict:
If you're looking for a decent GBA system but don't like the tiny form factor of the Game Boy Micro -–and can't afford the revised GBA SP AGS-101 with its superior screen – then this is a solid choice. It allows you to keep your beloved GBA library alive and offers some neat extras – although we'll let you decide for yourself if the included emulation and ROM support put this particular platform on morally shaky ground.
That stance hasn't really changed in 2020, despite the fact that we've seen many other clone handhelds arrive on the market – the most exciting of which has to be the forthcoming Analogue Pocket (which also happens to be a little bit more expensive). The company behind the Revo K101 Plus has refreshed the line somewhat by giving the system a new case design which introduces two additional colours – one which apes the purple launch GBA and another that looks like the classic Famicom controller. The D-Pad has also been revised.
Other than that, however, this is pretty much the same deal as before. The unit plays GBA carts right out of the box and apparently doesn't use software emulation. Performance with GBA games is perfect, we have to say; we didn't notice any issues (outside of the fact that the screen, while bright and colourful, isn't quite the right aspect ratio so games do tend to look a bit stretched unless you opt to play at the original resolution, which then gives you a big black border around the image).
As before, you can use the bundled "K-Card" to load up GBA ROMs (tut tut) or games for other consoles. The K101 Plus supports Game Boy, NES, Master System and PC Engine via emulation, but performance sadly hasn't improved over the past half-decade; it struggles to run NES games at full speed. This is clearly something the team behind the machine is aware of, as the official listing states that "with some of those consoles that sound and speed of the games is a bit off," adding that "GB and GBC games emulate the picture and audio very well, NES games picture runs great, but the audio notes merge together and don't sound correct, SMS, GG and PCE games run too slowly." Don't go buying one of these expecting the same kind of performance the Analogue Pocket aims to provide, basically.
For $75, the Revo K101 Plus remains a good "replacement" GBA, but since 2015 we've seen a rise in the number of refurbished or modified Game Boy systems on the market, which will make it harder than ever for a product like this to get noticed, no matter what kind of colour scheme it ships with.