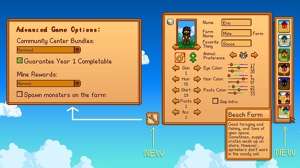 The imminent Stardew Valley 1.5 update adds a new Beach Farm type and a new Advanced Game Options menu, developer Eric "ConcernedApe" Barone revealed on Twitter.
"If you're a seasoned player thinking of starting a new farm when 1.5 comes out, I'd like to highlight a couple of new features," Barone said. "There will be a new farm type, Beach Farm, and a new Advanced Game Options menu, from which you can adjust some aspects of the game."
There's a screenshot showing the advanced game options, which include remixed community center bundles, a toggle for Guarantee Year 1 Completable, a setting for mine rewards, and a toggle for spawn monsters on the farm.