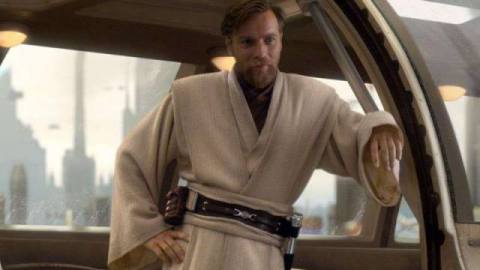 Disney's decision to create new Star Wars and Marvel Cinematic Universe stories as episodic streaming shows has paid off handsomely so far. The Mandalorian, WandaVision, and now The Falcon and the Winter Soldier are all smash hits. Many more shows are on the way, including Star Wars: Obi-Wan Kenobi, which begins filming in April.
Ewan McGregor is reprising his role as Old Ben, who we last saw in Star Wars: Revenge of the Sith. That film's tragic ending of Anakin Skywalker transforming into Darth Vader is the foundation for this show, which picks up roughly 10 years after that event. Hayden Christensen is also reprising his role as Darth Vader, who will hopefully have more lines of dialogue than "Noooo!"
Star Wars: Obi-Wan Kenobi is directed by Deborah Chow, who also filmed two episodes of The Mandalorian. Lucasfilm today announced more of the cast, which is loaded with names you'll recognize. We can look forward to seeing Moses Ingram, Kumail Nanjiani (an actor from Mass Effect and was on an episode of Replay), Joel Edgerton, Simone Kessell, Rupert Friend, Benny Safdie, Sung Kang, O'Shea Jackson Jr., Bonnie Piesse, and Indira Varma. You can see the official announcement image below:
We don't have any story specifics yet, but it's safe to assume Obi-Wan will spend a significant amount of time on Tatooine, where we see him protecting Luke Skywalker from afar in Star Wars: A New Hope. Some speculation believes Obi-Wan never leaves this planet, and that the entire show will take place on it, but I'd like to think he will explore threats that take him off world to different locations. If it is just on Tatooine, seeing Darth Vader return here will be mighty interesting.
No release date or further details were given, but it won't have the entire Star Wars spotlight. A third season of The Mandalorian is on the way, and we're also getting first seasons of The Book of Boba Fett, The Bad Batch, Ahsoka, Rangers of the New Republic, A Droid Story, The Acolyte, Lando, and Andor.