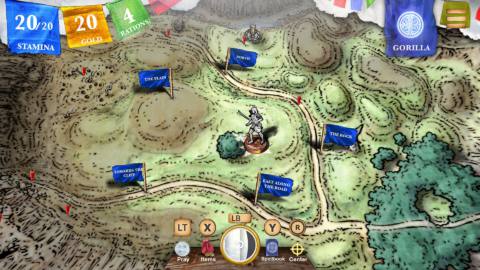 The original Sorcery! games on mobile made a strong impression on me. They were my first encounter with Inkle, a studio I'm now besotted with, and they were among my first encounters with deeper, more substantial mobile games. In fact, at the time – and this was quite a long time ago – I couldn't believe my hunk-a-junk iPhone 4 was capable of something so beautiful.
I still see Sorcery!'s gorgeous world maps in my mind – maps I now know are drawn by the superbly talented Mike Schley; I still hear Vaughan Williams' Fantasia on a Theme by Thomas Tallis in my ears; and, perhaps more importantly, I still think about the situations the game presented me with – the unpredictability of their outcomes, the strangeness of the encounters, and the wonderfully sobering realisation the game wasn't afraid to kill me for taking a wrong turn.
Of course, a lot of this comes from the source material: the old Steve Jackson Sorcery! game books. But there's also so much of what I've come to know as Inkle in there too – a cheekiness and a fondness for upending convention and doing what you don't expect. And perhaps above all: a skill with wielding words in text-based adventures that I think is unmatched.