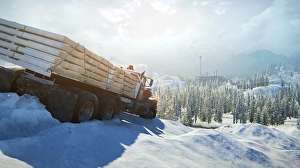 The wonderful SnowRunner has today launched on Steam, Xbox Game Pass and Nintendo Switch alongside Season 4: New Frontiers – and we've got confirmation of a second year of post-launch support.
SnowRunner, which Christian Donlan described as a "beautiful game about getting nowhere slowly", launched last year on the Epic Games Store, PlayStation 4 and Xbox One.
New Frontiers, meanwhile, is set in Amur Oblast, Russia, and provides 16 square kilometers of Russian wilderness to navigate for the rehabilitation of an abandoned rocket launch site.