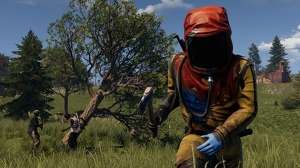 Rust Console Edition launches 21st May on PlayStation 4 and Xbox One.
Double Eleven, the Middlesbrough-based developer and publisher of Rust on console, said the standard edition costs £39.99. The deluxe edition, which costs £49.99, includes three days of early access, closed beta access, staging branch access, the Welcome Pack, and the Future Weapons and Tools Pack.
Then there's the £69.99 ultimate edition, which includes everything in the deluxe edition but also an upgraded Welcome Pack, 1100 Rust Coins, and an Elite Combat Skin Pack.