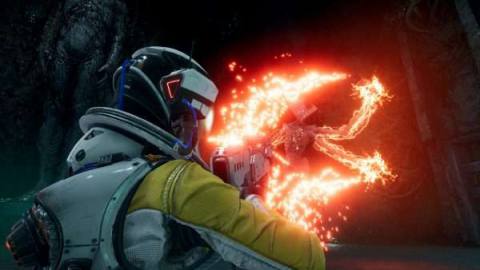 Returnal players are disappointed with one particular design choice Housemarque made.
Returnal, the new game from Housemarque, has been fairly well received thus far. Though the studio's decision to make a rogue-like certainly faced some criticism, one feature – or lack thereof – is responsible for a lot of the negativity around the game.
As pointed out in early reviews, including our own, Returnal does not allow players to save their progress mid-run. The main thing that carries over between runs is a single currency, as well as some story-specific and gameplay progression-specific items.
The problem, of course, is that unlike most rogue-likes – typically small indie games – runs in Returnal could take hours, especially the deeper into the game you get. Many players simply cannot commit that much uninterrupted time to playing games, so there's been a growing call for the ability to save progress mid-run.
Indeed, many modern rogue-likes allow players to do just that, some even added it post-launch like in Enter the Gungeon's case, for instance. Housemarque has addressed this request, saying that while it doesn't have any specific announcements to make, it's aware of it.
"We hear the community and we love you all. Nothing to announce now, but keep playing and enjoying the challenge as you can," the developer Tweeted, tagging a Reddit thread on the subject.
The situation is made even more frustrating by how Returnal actually acknowledges this issue when you first start it. The game clearly states that while you can't save your progress, you can suspend the game and put your PS5 into Rest Mode to achieved the same effect. Depending on how reliable game suspend has been for you, and whether or not your power tends to go out regularly, you may be out of luck there.
If you're finding Returnal to be challenging, our Returnal tips could highlight things you may not have considered. Alternatively, our Returnal weapons guide will help you pick the best tools for the job.
The post Returnal dev aware of players' need for mid-run saves, but has "nothing to announce" appeared first on VG247.