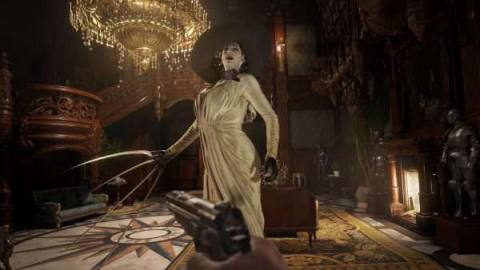 Resident Evil Village does indeed run better when you crack it.
Earlier this week, it came to light that Resident Evil Village's implementation of the anti-piracy DRM Denuvo (as well as Capcom's own DRM layer) are the main reasons behind the game's constant stuttering on PC.
Pirates said that using a crack eliminates all of these problems, and they have been proven right. Digital Foundry put these claims to the test, and found that DRM is indeed the cause of Village's troubles on PC. The tech outlet's latest video, seen above, demonstrates this by testing all areas that previously suffered from these split-second freezes.
Village's main, two cases of stutters occurred any time a zombie played a key animation, such as lunging at the player or recoiling from getting shot. Then there's the fight with Lady Dimitrescu's daughters, which also hit the framerate in a similar way.
Both of these problems, according to Digital Foundry's testing, are resolved when using the NFO crack, which disables the game's DRM. Capcom initially did not respond to a request for comment, but has since told DF that it's working on a patch that should fix this problem for its paying customers.
"The team are working on a patch to address PC performance issues, it should be available soon – we'll have more details shortly," Capcom said.
Needless to say, this isn't a good look for Capcom. Even assuming this next patch fixes the problem, it would still mean that paying customers have had to unnecessarily put up with a worse experience.
The post Resident Evil Village crack significantly improves performance, and Capcom is promising a fix appeared first on VG247.