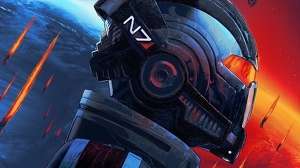 Whatever you think of Mass Effect 3's final moments, it's fair to say BioWare's third chapter brought the trilogy to a close in style. Over the course of the game, every squadmate past and present gets their turn in the spotlight, major story arcs get revisited and tied off, and Shepard is prepped for their last big mission.
But how did BioWare begin planning Mass Effect 3? How much was set in stone already? And how did the studio start tackling the headache of (potentially) killing off everyone in Mass Effect 2's extraordinary Suicide Mission? To celebrate the release of Mass Effect: Legendary Edition, I sat down for an extended interview with lead writer Mac Walters to discuss how the game's story was set down – and some of the things which changed along the way. Read on for new details of cut ideas and swapped missions, plus an early idea for an Easter egg which would have ended the whole trilogy in the first half hour of Mass Effect 1.
Fair warning: if you've not yet played the Mass Effect trilogy, this article discusses plot points from throughout.