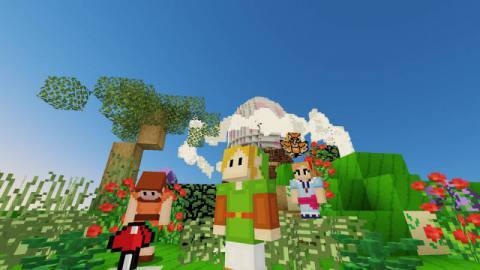 The Legend of Zelda: Link's Awakening was a treasure when it first released, and when a modernized version later arrived on Nintendo Switch, the journey got even better. If you're like us and are always on the hunt for an excuse to re-play through the iconic adventure Link himself, might we suggest pointing that sword at Minecraft next? 
Minecraft players are among the most creative in gaming, taking the sandbox world and truly turning out incredible creations. From full-on replicas to fan-driven content, Minecraft is a flourishing world of creativity and wonder. It's also now the home of another new way to experience Link's Awakening because two Redditors banded together to faithfully recreated the Nintendo classic within the world of Creepers and mining. 
[LA] So a while ago I posted some progress on Hyrule minecraft and it got a lot of traction – so I thought I'd show off what me and u/thelasteddieonearth are making: a fully playable and functional Link's Awakening map on Minecraft Java Edition. you can find it and play on Planetminecraft 🙂 from r/zelda
Redditor Pickledscones took to the Zelda forums to share the two-teamed recreation, showing off some progress shots of what an experience in a Hyrule-ified Minecraft looks like. In conjunction with u/TheLastEddieOnEarth, the Link's Awakening Minecraft experience will be fully playable, completely integrating the map of the Nintendo darling within the Minecraft Java Edition.
Interested? You can find this passion project over on PlanetMinecraft, the demo is completely free to play and is available now on PC. Keep in mind, this mod is still a work in progress, but what's been done so far looks wildly impressive. 
Want more mods? Check out a few of my other favorite Mod Corner picks below: 
Thoughts on playing Legend of Zelda: Link's Awakening in Minecraft? What other games would you like to see faithfully recreated? Sound off with your thoughts in the comment section below! You can also hit me up if you're looking for a specific game for mod recommendations!