From small personal stories to bombastic god-fighting adventures, RPGs can provide compelling journeys with the potential to draw you in for hours, days, or weeks at a time. Not only do they stretch our mathematical skills with min-maxing stats, but they also dazzle our imaginations with wondrous worlds, fantastical magic or technology, and magnetic characters. 2022's upcoming slate of RPGs is looking great so far, so we're sharing a handy list of ones you should keep your eye on throughout the year.
Keep in mind that the list below is not ranked but rather ordered chronologically by release date. That way, you'll know which games are just around the corner. We're expecting this list to change as the year goes on, with games being removed as they are released, and more exciting titles added as launch dates are announced. So keep checking back in the coming months to keep tabs on the RPGs we think should be worth your time. Without further ado, here are our most anticipated RPGs set to send us on grand adventures in 2022. 
Pokémon Legends: Arceus
Release: January 28 – Platforms: Switch
A stark departure from traditional Pokémon titles, Legends: Arceus lets trainers in on the action of Pokémon battles. Catching and battling happen seamlessly in the semi-open world, and in some cases, your character can find themselves on the receiving end of a 'mons devastating attack. Taking place over 100 years ago, you explore the lands of the Hisui region, or what we now know as Sinnoh, to complete the region's first Pokédex with help from the ancestors of familiar characters and the mysterious Galaxy Team organization.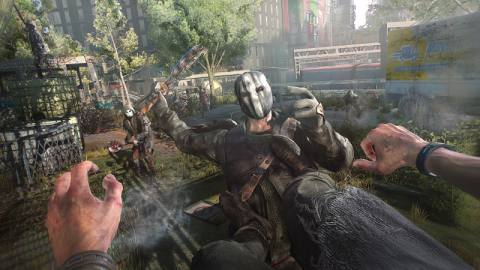 Dying Light 2 Stay Human
Release: February 4 – Platforms: PlayStation 5, Xbox Series X/S, PlayStation4, Xbox One, Switch (Cloud), PC
The long-awaited sequel to the Dying Light is almost upon us, and the evolution of this open-world zombie series is looking great. Taking place 20 years after the original, you play as new protagonist Aiden Caldwell, parkouring in and around The City, a last bastion of sorts for humanity after the zombie infection has taken hold of much of the world's population. Dying Light 2 offers plenty of drama with branching narrative paths and characters that can be your best friend or worst enemy, depending on the decisions you make. Expect plenty of thrills running, jumping, gliding, and crafting as a means to survive this second foray into Techland's zombie jungle gym.
Monark
Release: February 22 – Platforms: PlayStation 5, PlayStation 4, Switch, PC
Former Persona developers are cooking up another stylish high school drama centered on Daemonic entities known as Monarks and the seven Pactbearers they've partnered with. As one of the students who has teamed up with a Monark, you wield a power known as Ego against the other Pactbearers to free Shin Mikado Academy from a "madness-inducing Mist." The premise and visuals seem pretty familiar, but Monark injects an additional layer of strategy to stand out from its Atlus-developed inspiration with its tactical combat skirmishes.
Triangle Strategy
Release: March 4 – Platforms: Switch
Square Enix's latest title utilizing its beautiful HD-2D art style is a throwback tactical JRPG called Triangle Strategy. If you're a fan of Final Fantasy Tactics, this is a game you'll want to keep an eye on. The triangle referenced in the title comes in two different flavors. First, the story centers on three nations, all struggling for control of quickly depleting resources of salt and iron in the continent of Norzelia. Your actions throughout the game affect the other titular triangle, the three convictions: Utility, Morality, and Liberty. Whichever of these traits you favor or don't will guide how the narrative plays out, which could change the course of history for entire nations.
The Legend of Heroes: Trails From Zero
Release: Fall 2022 – Platforms: PlayStation 4, Switch, PC
First released in Japan in 2010, this follow-up to the Trails in the Sky trilogy takes place a handful of months later in the region of Crossbell, years before the events of the Trails of Cold Steel series. Why be excited about a decade-old RPG? Trails From Zero is the first of a couple of missing links in The Legend of Heroes saga that were never localized in English. These games all take place in the same world and timeline, so we're pumped to add more pieces to this ever-evolving narrative puzzle when Tales From Zero finally hits later this year.
Starfield
Release: November 11 – Platforms: Xbox Series X/S, PC
Bethesda Game Studios is taking its tried and true RPG formula to interstellar locales with the late 2022 release of Starfield. As a member of a space-exploring collective known as Constellation, you explore alien worlds in a pocket of the Milky Way galaxy set in the year 2330. If Starfield shares any DNA of Fallout or The Elder Scrolls, expect to be embroiled in fierce faction conflicts and flush with a bevy of engaging side activities that will have you gleefully exploring every nook and cranny of each planet you land on.
Star Ocean The Divine Force
Release: 2022 – Platforms: PlayStation 5, Xbox Series X/S, PlayStation 4, Xbox One, PC
Developer tri-Ace returns with a new edition to its seminal RPG series, bringing Star Ocean to new open expanses and ratcheting up the action. Star Ocean The Divine Force stars Raymond, a sword-swinging, star-faring hero with the sickest '80s hairband 'do we've seen in quite some time. Raymond teams up with "many playable characters," one of which is an uncrowned princess named Laeticia, whose kingdom is at the center of one of the narrative's conflicts that could end up having galactic ramifications.
Sea of Stars
Release: 2022 – Platforms: PlayStation 4, Xbox One, Switch, PC
Like its predecessor, The Messenger, Sabotage Studio's newest project and prequel of sorts, Sea of Stars, takes heavy influence from games of a bygone era. Instead of falling back on the action platformer genre, Sea of Stars gives us serious Chrono Trigger vibes that immediately caught our attention. The story centers on two kids, Valere and Zale, who wield the powers of the moon and sun. Combining them creates Solstice magic, a powerful force they'll utilize in their battle against a disgustingly-named threat known as The Fleshmancer.
RPG Time: The Legend of Wright
Release: TBA 2022 – Platforms: Xbox Series X/S, Xbox One, PC, iOS, Android
DeskWorks' stunning RPG takes papercraft and hand-drawn art to the next level. RPG Time: The Legend of Wright is about a student named Kenta who dreams of becoming a game designer. However, because Kenta doesn't have a computer on which to make his games, he takes to his trusty notebook to doodle out epic adventures. Using other objects like straws, stationary, cardboard, and more, The Legend of Wright and Kenta's imagination come to life in incredible and charming ways.
About Author