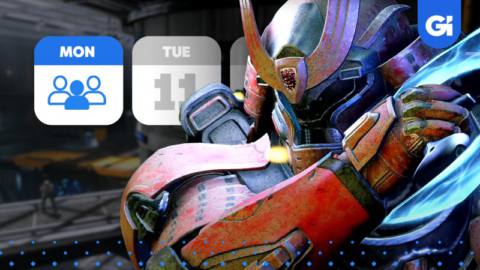 Happy Monday, folks! It's January 10th, so you're likely still cleaning up the holiday inbox, preparing for another semester to begin, or just struggling to shake off the weekend stink. On days like today, the coffee disappears too quickly and the caffeine works too slowly. But don't worry, we're here to keep you company. Brew another cup and strap in for a Halo Infinite multiplayer session during the first installment of Game Informer's weekly Multiplayer Monday stream series! 
The action begins later today at 1:30 p.m. Central over at Twitch.tv/GameInformer. Bookmark this page if you'd prefer to watch the livestream in the video player below as hosts Alex Van Aken and Alex Stadnik grind for the highly sought-after Yoroi armor set in Halo Infinite's second Fracture Tenrai event. 
Click here to watch embedded media
As you watch, we encourage you to join the excellent Game Informer community in the chat. Ask any questions you have about Halo Infinite or video games in general, and we'll answer them when we have a break in the action. Subscribing to our Twitch channel also nets you access to the official Game Informer Discord channel, where you can engage with the editors and community in a myriad of fun discussions. Thanks for watching!
About Author