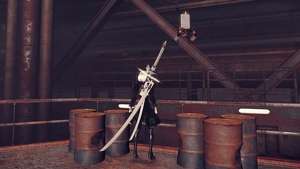 An intrepid modder has discovered Nier Automata's "final secret": a cheat code.
Lance McDonald, who Eurogamer has covered multiple times for his varied work on the likes of P.T. and Bloodborne, found a cheat code in the early 2017 release that lets you skip to the last ending immediately after killing the first boss and unlock the bonus modes.
Over the weekend, the English language Nier Twitter account congratulated McDonald for the discovery, and Nier Automata development chief Yoko Taro, who two years ago had teased there was still one final secret no-one had yet found in the game, shared the work, pointing out it took three years and 10 months for the cheat code to be discovered.