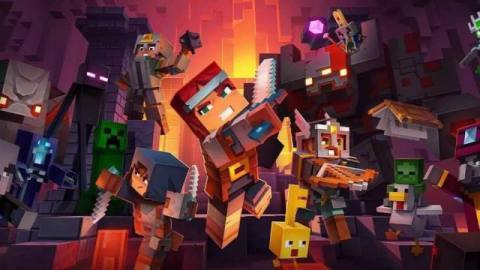 Update [Wed 18th Nov, 2020 03:30 GMT]: Cross-platform play is now available in Minecraft Dungeons, here are the full patch notes via the official game site:
1.6.0.0 – November 17, 2020
Cross-Platform Play:
– Team up with friends across consoles and PC! Create a multiplatform alliance and battle together with the new cross-platform play free game update to Minecraft Dungeons, available now. This update allows for cross-platform multiplayer across Nintendo Switch, PlayStation®, Windows, and Xbox
– Check out the article on Multiplayer and Cross-Platform Play for the full scoop!
– Please make sure that your game is updated to version 1.6.0.0 or later before playing multiplayer.
---

Original article [Thu 12th Nov, 2020 06:30 GMT]: Since the release of Minecraft Dungeons, Mojang has promised the game's community it would add in cross-platform multiplayer, so people across all systems could play together. Now, on 17th November, heroes on Nintendo Switch, PlayStation 4, Xbox One and PC will be able to team up with each other.
"Heroes, are you listening?! Cross-platform play arrives on November 17 for Nintendo Switch, PlayStation 4, Windows and Xbox One! It's almost time to join forces – whatever platform you play on!"
This will be followed by the brand new Howling Peaks DLC and Season Pass in December. There'll also be some additional free content on the side – Apocalypse Plus (which adds 20 new difficulties, increases the characters' power ceiling, and adds new enchantments and items).
Have you been wanting to play Minecraft Dungeons with your friends on other platforms? Tell us below.