Marvel's Avengers will finally answer one of its players' long-standing requests, but it may not quite be what they're looking for.
Last night's Marvel's Avengers segment in the Square Enix Presents showcase brought us a first look at Black Panther, and the promise of new content later this year.
Crystal Dynamics also shared a look at the game's 2021 roadmap, which was one of the more underwhelming moments of the presentation, in part because the image shown wasn't very descriptive. But there's good news, because an expanded version of the same roadmap (below) was later revealed on the official blog.
One event in particular somehow went under the radar for many, and it's the Tachyon Anomaly, due sometime this spring. Crystal Dynamics confirmed that this is when the game will allow multiples of the same hero in the same match, a first for Avengers. Having more than one of the same hero in a team has been one of the most requested features since before the game even came out.
The only problem is, you'll only be able to do this during the Temporal Assault event. I am sure there's going to be a multiverse reason why four Hulks or Iron Men are present at once, but it's disappointing to see the feature not sticking around. That said, Crystal Dynamics could always change its mind on this one and make it permanent.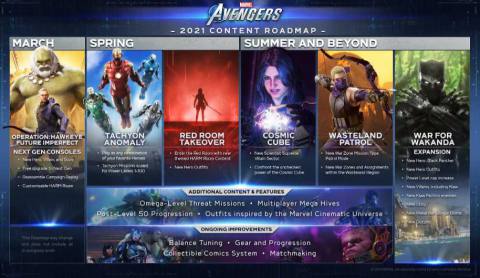 During the event, you'll also see Tachyon Rift Missions more frequently, and they will scale for power levels 1-100, allowing even low-level players to experience them. Tachyon Rift Missions drop event-specific loot.
Another interesting wrinkle not covered in the original announcement is the new Patrol Mode. Similar to Destiny's patrol zones, this allows you to load into a War Zone – here being the new Wasteland – and freely complete objectives and quests as you explore, without having to load as part of a specific mission as things currently stand.
Hit the link above for more on what's coming over the course of the year.
The post Marvel's Avengers will finally allow for multiples of the same hero in the same mission, but there's a catch appeared first on VG247.