There's plenty of content heading your way, Hitman 3 players.
IO Interactive will add new and free content to Hitman 3 on a weekly basis in February, it has announced.
You can expect Featured Contracts coming from MinnMax and KindaFunny, two new Escalations, and an Elusive Target contract in Sapienza that includes two targets.
Alongside the content, you can expect a patch in the next few weeks that will bring fixes and tweaks to the game. That patch will also make sure you're "prepared for what's still to come."
Here's a rundown of the February roadmap:
February 4 – The Baskerville Barney Escalation
February 11 – Dubai Featured Contracts
February 18 – The Sinbad Stringent Escalation
February 23 – The Gauchito Antiquity Deluxe Escalation, The Proloff Parable Deluxe Escalation, Dartmoor Featured Contracts
February 26 – March 8 – The Deceivers Spaizeza Elusive Target
The game was released on January 20 for PC (Epic Games Store), PS4, PS5, Switch, Xbox One, Xbox Series X/S, and Stadia. It is a very well-received title with good scores all around. VG247's Alex Donaldson even called it a "fitting finale to one of gaming's best trilogies."
If you are just picking it up and need some help with door and safe codes or the Death in the Family murder mystery, we have you covered.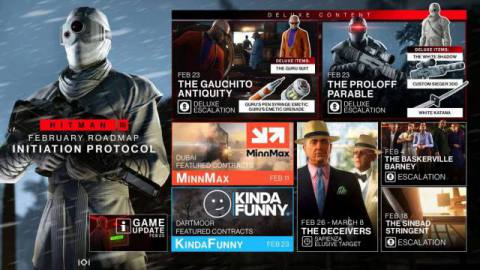 The post Hitman 3 to add new and free content every week of February appeared first on VG247.