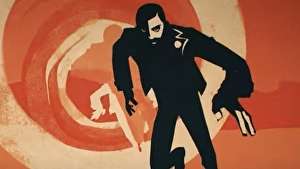 Arkane Studios, the developer behind the likes of Dishonored and Prey, has been teasing Deathloop for quite some time now, and the wonderfully stylish recursive stealth shooter has looked captivating at every turn. And the tantalising glimpses continued tonight with nine new minutes of gameplay footage, as shown during Sony's latest PlayStation State of Play.
First, the basic premise for those unfamiliar; in Deathloop, players take on the role of Colt, an assassin who finds himself trapped in an endless time loop on the mysterious Blackreef island. In order to escape, he'll need to take out eight targets known as the Visionaries before the day ends – but if he fails (or dies) time rewinds and he'll need to start over.
All isn't lost, however; by exploring further in each successive loop, players can gain valuable clues they'll be able to use next time around to locate and eliminate their targets before the day ends – and Arkane's latest gameplay footage focusses on an attempt to bring down the Visionary known as Aleksis "The Wolf" Dorsey.