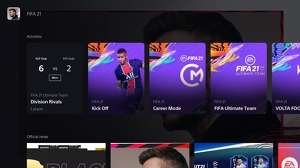 I've had a kickabout with FIFA 21 on PlayStation 5, and while the gameplay is fundamentally the same as on PlayStation 4, there are some significant improvements.
For example, FIFA 21 benefits greatly from the PS5's Activities feature. Here, from the PS5 home screen, you can press a button to jump straight into the various modes within Ultimate Team without having to go through the main FIFA 21 menu first. Brilliantly, FIFA 21 next-gen ditches the annoying language selection when you boot up the game – something that has been a staple of FIFA for years. You have to log into EA's servers – there's no avoiding that – but I was able to go from the PS5 home screen to matchmaking a Division Rivals game in 20 seconds, which is remarkable. It really is quite the thing.
And once you've got a match, the game itself loads really fast – so fast in fact that there's not enough time to check out your opponent's team, which flashes on-screen just before kick-off. This is a good thing, I guess! But it is handy to know what you're up against before you start a match. Perhaps the PS5 is running too fast for its own good here.