Membership has its rewards, especially when it comes to EA Play. Each month, Game Pass Ultimate members get access to a medley of EA Play Rewards, from games like FIFA 22, Apex Legends, Battlefield 2042, and more. Looking for XP Boosts? We got you. In the mood for themed Ultimate Team content? Check that off the list. Below is the full list of all the great content you'll get this month when you play your favorite EA games: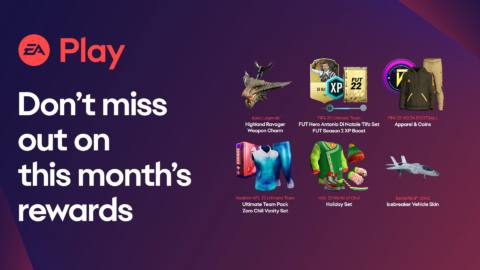 FIFA 22 Ultimate Team Hero Antonio Di Natale Tifo Set – December 1 to December 31
FIFA 22 Ultimate Team Season 2 XP Boost – November 12 to December 23
Apex Legends Highland Ravager Weapon Charm – December 2 to January 4
NHL 22 World of Chel Holiday Set – December 1 to December 31
Madden NFL 22 Ultimate Team Pack – December 13 to January 12
Madden NFL 22 Zero Chill Set – December 1 to December 31
Battlefield 2042 Icebreaker Vehicle Skin – December 1 to December 30
Xbox Game Pass Ultimate members, you get EA Play at no additional cost so you can enjoy great player benefits and a library of top titles. Members can access in-game challenges and rewards, unlock special member-only content, play trials of select brand-new titles, get access to a collection of our best-loved series and top titles, and save 10% on purchases of Electronic Arts digital content Visit the EA Play page or EA.com/EA-Play/Terms for more details. To stay up to date on the latest from EA Play follow us on Facebook, Instagram, or Twitter. Please see EA.com/EA-Play/Terms for full details.
Related:
Free Play Days: Assassin's Creed Odyssey and Olympic Games Tokyo 2020 – The Official Video Game
Coming Soon to Xbox Game Pass: Mortal Kombat 11, The Gunk, Broken Age, and More
Free Play Days – Chivalry 2, Trailmakers, and Black Desert
Source
About Author