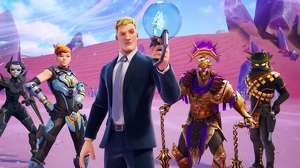 Last night, Fortnite bid farewell to its Marvel season in a game-changing live event which wiped away all trace of its superheroes.
Today, Fortnite returns – around 9am UK time – and picks up the pieces from that big cliffhanger. We're back on a familiar map – though with some notable changes.
For those who prefer Fortnite to focus on its own storyline and original characters, there seems plenty more of that in the new Chapter 2 Season 5 – albeit with a guest appearance from Star Wars' Mandalorian and Baby Yoda.