Skaters, it's your time to shred and shine: the Vans World experience is live on Roblox!
All the things about skate culture that make it truly stand out — the community, fashion, individual expression, and of course, skateboarding — come to virtual life in this massive skate park for you and your friends. Chill at hangout spots like the sandy beaches or the iconic House of Vans, sign up for competitions, take on daily challenges, and customize your own Vans shoes and skateboard to show off your individual style. It's gonna be a rad time.
Go hard
Just like the real world, tons of ramps and rails await across this urban experience, all with your name on them. Earn your skating stripes out on the concrete, collect Waffle Coins to level up, and pick up legendary tricks as you advance!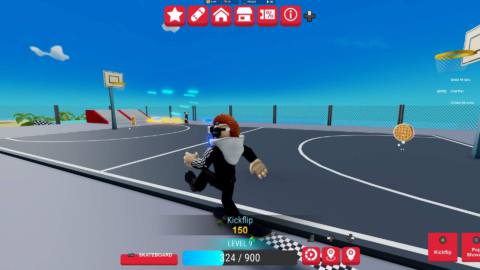 Flex your skills
Practice makes pro, so get out there and get good! Size up other skaters and climb to the top of a leaderboard or three with daily challenges to see who can pull off the most insane tricks!
Customize your avatar
When you're looking for some chill time, lounge at the nearby beach or visit the Vans store to browse their selection of virtual apparel and gear. These items are ready for your personal touch — customize them for some serious steez on and off the rails!
More epic times to follow
The stage is just getting set for this online collab between Vans and Roblox. Vans World is here to stay, with plenty of exciting updates lined up to make this the best place for the skating community to come together. Keep checking back for new sites to explore, gear to try out, competitions to crush, and so much more: roblox.com/vansworld.
We'll see you out there!
ROBLOX
Roblox is the ultimate virtual universe that lets you create, share experiences with friends, and be anything you can imagine. Join millions of people and discover an infinite variety of immersive experiences created by a global community! Already have an account? Log in with your existing Roblox account and explore the infinite metaverse of Roblox. MILLIONS OF EXPERIENCES In the mood for an epic adventure? Want to compete against rivals worldwide? Or do you just want to hang out and chat with your friends online? A growing library of experiences created by the community means there's always something new and exciting for you every day. EXPLORE TOGETHER ANYTIME, ANYWHERE Take the fun on the go. Roblox features full cross-platform support, meaning you can join your friends and millions of other people on their computers, mobile devices, Xbox One, or VR headsets. BE ANYTHING YOU CAN IMAGINE Be creative and show off your unique style! Customize your avatar with tons of hats, shirts, faces, gear, and more. With an ever-expanding catalog of items, there's no limit to the looks you can create. CHAT WITH FRIENDS Hang out with friends around the world using chat features, private messages, and groups! CREATE YOUR OWN EXPERIENCES: https://www.roblox.com/develop
SUPPORT: https://en.help.roblox.com/hc/en-us
CONTACT: https://corp.roblox.com/contact/
PRIVACY POLICY: https://www.roblox.com/info/privacy
PARENT'S GUIDE: https://corp.roblox.com/parents/ PLEASE NOTE: A network connection is required to join. Roblox works best over Wi-Fi. PLEASE NOTE: Xbox Live Gold and an internet connection of 192 Kbps or higher required to play. THE ROBLOX RATING APPLIES ONLY TO THE ROBLOX APP, NOT TO ANY USER GENERATED CONTENT INCLUDED WITHIN THE APP, WHICH IS UNRATED.
Related:
Tunche: Behold the Secrets of the Amazon Jungle
Time is of the Essence in Operation: Tango's Free Content Update
Hoa Brings a Puzzle-Platforming Adventure to Xbox
Source
About Author