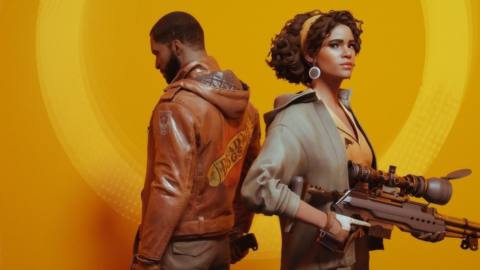 Deathloop is about killing the people who are killing time. Set in a kind of alternate 1970s that feels more like the far future of Dishonored's Gristol than part of Earth's history, it's a freeform, first-person mix of shooting, assassination, hacking and sorcery in which you wind and rewind a single day both to experiment with tools and manipulate targets such that you can massacre them all before darkness falls.
The lead is Colt Vahn, a hulking amnesiac who – shortly after being hacked to death by a mysterious woman – wakes on a time-locked Arctic island occupied by a hedonistic Bond movie organisation called AEON. To undo the rippling Anomaly keeping the island's never-ending murder-party in motion, Colt must slay the eight "Visionaries" who preside over four, separately loading areas, which also involves digging into the island's buried secrets, slaughtering no end of rank-and-file "Eternalists", and unravelling the riddle of his own presence. Amongst the Visionaries is Julianna, the aforesaid mystery lady, incorrigible nuisance-caller and the game's second playable character, who stars in a multiplayer mode where you invade the worlds of other Colts and kill them for unlocks.
What follows is a stylish, bloodthirsty and considerate reworking of ideas from Arkane's other games, which clears away a little of Dishonored's haughty perfectionism and grants you ample leeway to run amok. This is captured by the art direction, which retains Dishonored's brooding, salt-soaked shorelines but covers them with neon signboards, boutique low-poly statues and jaunty Space Age cabins – an upper cruster's carnival with heady overtones of Tarantino and Wolfenstein, perched atop the ruins of a much less forgiving game. I'm not sure it's Arkane's most adventurous or surprising work – for all the louder presentation, it sometimes pulls its punches. But it might be Arkane's most straightforwardly enjoyable game.