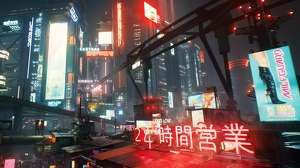 Over the years, there has been a lot of discussion around Cyberpunk 2077 but from our perspective, it's the next-generation technology powering the game that is perhaps most exciting. Since The Witcher 2, developer CD Projekt Red has focused on delivering cutting-edge visual experiences across multiple platforms but in moving away from the rolling hills of The Witcher onto the streets of Night City, we have something far beyond the scope of anything in the studio's past.
In that sense, Cyberpunk is one of those rare games that fully embraces the latest in PC technology to deliver a true leap in fidelity – a modern day Crysis, if you like. Night City is a dense, multi-tiered, vertical city built using the latest in graphics technology alongside smart visual design. But let's be clear from the outset – it's always been our contention that this is a next generation game, and our concerns have always been around the challenging but necessary base console versions. We'll be covering those very, very soon but let's be clear here: this is a demanding game that simply doesn't work well on seven-year-old console hardware. Give Cyberpunk 2077 the horsepower it demands though – and you're in for something special.
At its core Cyberpunk 2077 is powered by CD Projekt Red's proprietary Red Engine. This set of tools and technology served as the foundation on which The Witcher series was built but the shift from its previous game to Cyberpunk is one of the largest leaps we've seen. The Witcher series focuses on natural environments – rolling hills, dense forests and eerie marshland define the landscape and it's beautiful in its own right but Cyberpunk's move to an open world city demands a different approach and the team has delivered. The latest iteration of Red Engine running fully unleashed is truly something to behold.