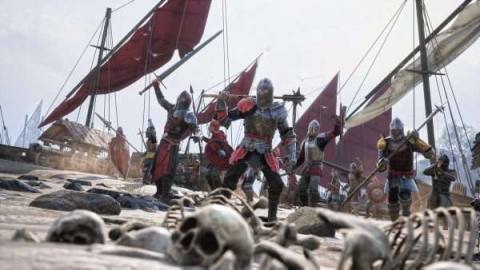 Having more or less given up on online shooters, it seems all I needed was a sword and some terrible one-liners to bring me back.
Let's get something out of the way. I am not good at online games. Of any sort, really. Whether it's Call of Duty, FIFA, or Mario Kart, I lose and I lose badly. In fact, the only time in my entire life I can remember being good at an online game is for a brief period of time when Football Manager Online existed and life was better. Oh, the good old days. But I digress.
The point is, I've fallen out of love with online games, and shooters in particular. Whereas I played a LOT of Halo 2 back in the day, today I find myself headshotted into a miserable malaise if I try to check out the latest trendsetter. Chivalry 2 isn't like this. I'm playing it and – wait for it – having fun.
While Chivalry 2 isn't a shooter (although there are ranged weapons), it is a game in which you bosh people over the head with a spikey weapon or stab them with a spikey weapon, or swing at them with a spikey weapon. You can play with up to 64 total players, either in two huge teams going at it, or in free-for-all arenas in which every person looks out for themselves. That's the game. And it's great.
I love how simple and chaotic things feel in Chivalry 2. In a game like Battlefield I'd spend ages getting into the hub of the action only to be gunned down before I'd had a moment to spot a single enemy, my decrepit eyes managing to be even slower than my ancient hands. Here you are automatically thrust forwards towards where things are happening, and then you just go ham on whoever is in front of you, blocking a bit, dodging, and just having a wonderful time. Sometimes you decapitate someone, sometimes someone decapitates you. It's all good fun.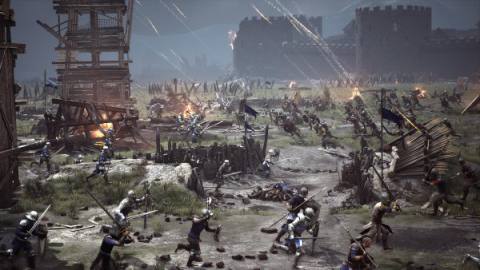 There is absolutely no doubt in my mind that there are people playing Chivalry 2 and taking it very seriously. To them I expect my flailing, hopping, and excessive use of the battlecry button (honestly, some of the things you can say in this are AMAZING!) show a huge amount of disrespect to this medieval combat game. There is depth here, for sure – so much so that I couldn't even complete the tutorial without consulting a video guide to see what I was doing wrong – but the great thing about this game is that you don't have to care about all that stuff at all.
To explain a little more of the game, other than saying you just repeatedly try to stab people, matches take place in large maps and move between objectives. You might begin by trying to prevent the forward march of some battering rams (the machines, not some particularly large blokes), then switch to defending stashes of gold, or stopping the incoming army from breaking through a gate. Everything is easy to follow and you really feel like you are contributing to the task at hand – something I felt disconnected from at times in modern shooters.
An XP system alongside the ability to buy new gear are the carrots on the stick to keep you plucking away and get a sense of reward for your brawling, but to be honest I don't need those to keep playing. The core gameplay mechanics just click, and never have I played a combat-focused multiplayer game that feels so welcoming to new players. Chivalry 2 might look like a virtual recreation of a hardcore LARPing group, but that's exactly why I'm enjoying it so much.
If Chivalry 2 isn't your thing (it can be rather violent, to be fair) you might prefer to check out the best Roblox games or head to our video game release dates page to see what else is coming this year and beyond.
The post Chivalry 2 is the online multiplayer brawler I didn't know I needed appeared first on VG247.