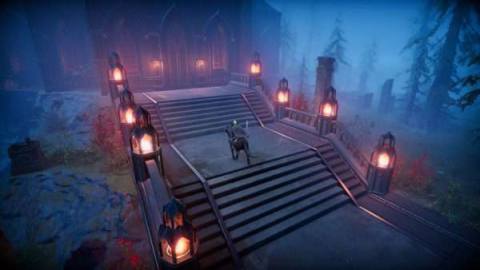 V Rising is an ambitious new project from the people behind Battlerite.
Stunlock Studios, the studio mostly known for its hit top-down competitive multiplayer game Battlerite, has broken its long silence and revealed a new project: V Rising.
V Rising is also a top-down action game, but it's unlike any game the team had made before. In this open-world multiplayer survival game, you play as a freshly-awakened vampire who must initially fend for themselves to survive, and soon find others like them and build castles to bring back vampire reign. With your vampire clan, you'll be able to raid human cities and turn them, and fight off rival clans.
V Rising looks to be built on Battlerite's combat, though this week's reveal trailer shows only the tiniest bits of gameplay. The game also respects common vampire lore; you'll need to frequently hunt for blood, feed, and avoid the lethal sunlight. As you grow your character, you'll unlock more abilities and the ability to craft more powerful weapons.
V Rising is in development for PC, with a beta coming to Steam sometime later this year. You can wishlist it on Steam today to stay informed with new updates.
The post Battlerite dev is back with V Rising, a vampire survival game appeared first on VG247.