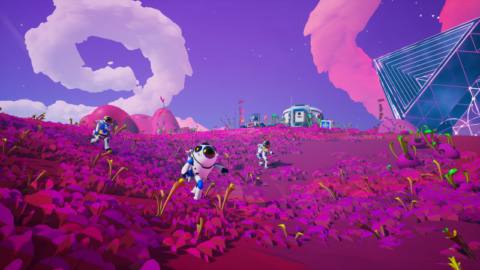 After launching on PlayStation, Xbox, and PC in 2019, Astroneer, complete with the Xenobiology update, arrives today on Switch. The game has won its share of fans over the years since its launch, and the new content promises to send players on a planet-hopping, story-driven quest to uncover the secrets behind strange extraterrestrial lifeforms. As such, veteran players and would-be fans may be looking at this latest console release as a jumping-in point. Unfortunately, players may find the interstellar game doesn't fly smoothly on Switch.
System Era Softworks is the development team behind this sci-fi adventure, and it counts amongst its crew experienced industry creators from places like 343 Industries, Valve, and EA. Astroneer allows players to hop into the spacesuit of an intergalactic explorer who, upon arriving on a new planet, builds up a base by collecting resources, terraforming alien terrain, and crafting ever-greater technologies. The result has noticeable Minecraft vibes, though its vivid, polygonal aesthetic and galactic backdrop set it apart from other titles in this space.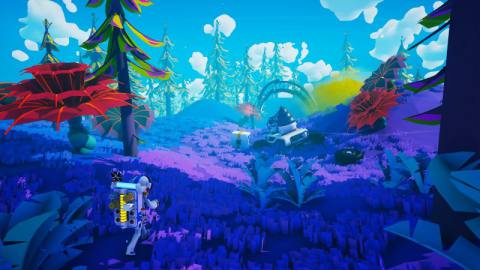 I played around five hours of Astroneer's Switch version, traversing undiscovered wilderness, digging enormous holes in the landscape, and printing up new scientific facilities to further my progress. While the world's vibrant colors certainly seem right at home on the Switch, Nintendo's console has some problems handling many aspects of Astroneer. As far as visuals, the world's lush foliage pop noticeably into view as you walk through the terrain, making the world seem barren until you are almost on top of a location.
The controls, which at best seem clunky and at worst game-haltingly frustrating, are also an issue. Accurately picking objects up requires the player to use the left trigger, right stick, and right trigger. Not only is that a lot of steps to precisely grab something, but you also can't use the right stick to move items and the camera at the same time, making it hard to see where you're going.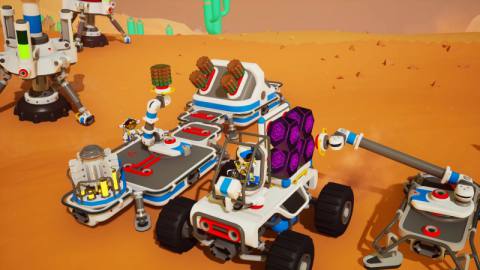 These problems don't make the game unplayable, but they add a cumbersome layer, exacerbated by the game's limited explanations of how things work. It's clear there is a fun game underneath the unwieldy controls and poor graphic performance. However, picking up Astroneer on another platform may give you a better playing experience.  
About Author