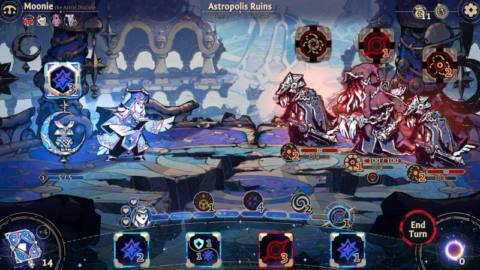 Akupara Games is an indie developer/producer known for its ambitious forays into multiple genres of digital games storytelling – point and click adventures, puzzle RPGs, rhythm brawlers, and platformers. The company is pairing with Brazil-based developer Little Leo Games to create Astrea: Six-Sided Oracles, a deck-building game with roguelike mechanics and a "dicey" twist. Literally.
Click here to watch embedded media
Instead of just collecting and mastering conventional decks of cards, you'll roll six-faced dice to enable a range of abilities. Then you'll take those skills and attempt to Purify/Corrupt the foes you face. Watch the trailer above for gameplay details.
With over six characters to choose from – each with their own set of playstyles – and deep progression linked to upgrades and classes (you can even create dual-classes), you'll have your work cut out for you as you climb the ladder to face stronger foes. The 2D art style and unit placement UI remind me of Astria: Ascending's visuals. If you enjoy deck-building games with a hint of magical whimsy, then Astrea: Six-Sided Oracles might be the next indie title for you. 
Astrea's features overview can be read below:
Fortify Your Astrarium – Choose among hundreds of different dice that suit your penchant; reliably safe, perfectly balanced, or powerfully risky
Purify vs Corruption – Tactfully wield an innate risk vs reward system by pacifying enemies through Purification, or Corrupt yourself to unleash abilities that will help tip the scales
Choose Your Path Wisely – Laden with bountiful boons to enhance your chances for success and encounters against waves of enemies that impede your progress, chart a course through the star system to the source of Corruption
Choose from Six Brave Oracles – Each possessing their own unique dice sets, abilities, and playstyles
Click image thumbnails to view larger version
You can add Astrea to your Steam wishlist right now. A release date has not been announced.
About Author