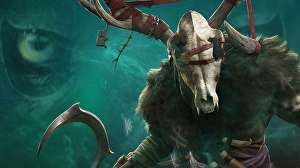 I'll get this out the way first. I understand there are people who may not want more Assassin's Creed Valhalla. It is an enormous game and, for sure, Wrath of the Druids is no minor DLC. To those people, I hear ya, and thank you for your time here today! Lovely. To those who are hungry for more Eivor and to hang out in a new country's history, welcome. Ireland offers lots of familiar things to do across a beautiful new landscape, and some fun fresh additions.
Here's the top-line stuff. Wrath of the Druids adds around two-thirds of Ireland to explore, with an enjoyable self-contained campaign, some interesting new enemies, a major new trading system and, fans will be pleased to know, a boatload of fresh armour sets and cosmetics to unlock and upgrade. This is an adventure focused on Eivor – and while things do skirt very slightly into the supernatural, there's no major modern day or Isu plotline here.
Designed to be played at any point of your Viking adventure, Druids introduces a new cast of characters led by your hitherto unmentioned cousin Barid, who has wound up becoming King of Dublin (where was he when we were trying to sort out England, eh?). Barid calls for aid via his trade envoy, the intriguing one-eyed Azar, who turns up in Ravensthorpe to rope Eivor in. From there, the action heads across the Irish Sea to a fresh map accessible via your Atlas, akin to Vinland and Norway, and the start of a sprawling new adventure.