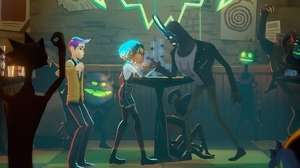 Despite enjoying it during my initial review, I never connected to Afterparty in the same way as its predecessor Oxenfree, one of my favourite games. Both are narrative-focused – you walk two characters from A to B and pick dialogue options, some of these options will change the course the story takes. Your protagonists are young people with a very natural way of speaking – they mumble and interrupt each other should you so choose, sigh loud and use "like", like… you know.
I think I never liked Afterparty as much as Oxenfree because it's a less hopeful continuation of the same problems – Oxenfree ends at a point where Alex can choose to go to college in a different state and start over, whereas Milo and Lola spend college just as miserable as before. They aren't nice to each other. They may in fact be very tired of each other and ready to explore something new, but they're also scared of letting go.
Both games try to make a point about autonomy, about their protagonists never really being their own people, not only because they're literally being controlled by you. Alex is trying to move on from a traumatic experience in her life and needs physical distance for that, and Lola wants to move town after college, which frightens Milo enough to sabotage even a tentative attempt to do so. Alex in Oxenfree by contrast is much more of a video game hero protagonist, as she has the power to alter reality and undo the source of her trauma. What actually happened on Edward's Island, what happened to her brother before that, will be a thing only she remembers. I liked that option better, because what I want when thinking about traumatic experiences is a do-over. As Cher puts it: "If I could turn back time".