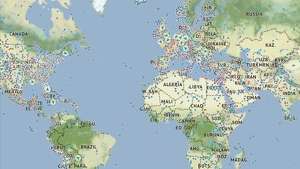 An ambitious modder is building an audio tour of the entire virtual world – inside Microsoft Flight Simulator.
Bushtalk Radio is a community-driven project that adds audio descriptions to over 8000 points of interest in the sim. These audio descriptions are played automatically as you arrive at one of the supported POIs.
Some of the most-visited POIs with accompanying audio tours include a raft of UK landmarks, such as The O2, Tower Bridge, Hyde Park, The Shard and Big Ben.