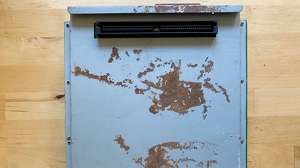 A never-before-seen Hyper Neo Geo 64 Samurai Shodown 64 prototype was found sitting under a tree in a Californian field recently.
It had been sitting there for 20 years, retro video game collectors believe.
Samurai Shodown 64 is a December 1997 fighting game released for the Hyper Neo Geo 64, the arcade system created by SNK as the successor to the Neo Geo MVS.